Mother's Day hiking for kids without moms
By SUKI REED
SPECIAL TO THE OC REGISTER
O.C. Hiking & Backpacking Club takes orphaned children on 7-mile beach trek. You can, too.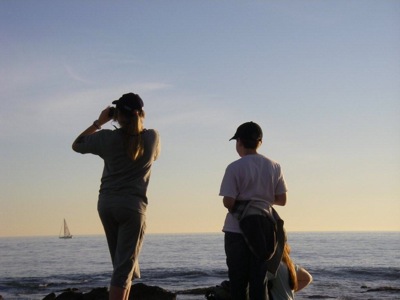 As Mother's Day approaches, it gives us the opportunity to say thanks to mom. But what about the kids in our own community who are separated from mom? There are thousands of kids in our own backyard who have been orphaned through abuse, abandonment or death of their parents. These are the kids in whom Orange County Hiking & Backpacking Club is taking an active interest in by showing them the great outdoors through local hikes.
Last Sunday I led a "Kids in Need Hike" and watched kids with bright smiles and laughter playing in the tide pools of Crystal Cove State Beach. This walk allows them to explore seven miles of pristine beach at their own pace. The tide pools are captivating and lots of time is spent poking at sea anemones and hermit crabs.
Elizabeth, a club member and National Oceanic and Atmospheric Administration marine biologist, picked up a hermit crab and explained how the tiny crab lives in a temporary, borrowed shell and then moves on to other temporary shelters of suitable size as it grows bigger. The hermit crab did a dance in her hand, showing off for the crowd and the kids run screaming in delight. After learning about hermit crabs, Child X (names cannot be used) kicked off her shoes and slowly wriggled her toes into the sand with fascination – because she had never set foot on a beach before.
These kids seem normal to the casual observer, but like the hermit crab, each of these kids are living in a temporary borrowed shelter. In our sophisticated local community, it's hard to imagine kids living in a deprived situation. But, here in the state of California, a 2007 study from U.S. Department of Health and Human Services shows that there were an appalling 88,319 cases of reported child abuse and 37,121 of these children were removed from their homes. Not surprisingly, the numbers have not decreased in subsequent years.
Kids who are removed from their homes bounce around in the court system and go from foster home to foster home. If their biological parents are deemed worthy, they might return back to a "normal" life. But the court will find many of these homes unsuitable - and the question arises: what happens to children who have no homes? The options are often inadequate, but they include adoption, foster care and group homes.
If you want to help an orphan, you don't need to fly overseas or cross the border to Mexico; the need is in your own backyard. This Mother's Day, consider what you can do for children who have no mom, dad or home. To learn more about the group or to attend a Kids in Need Hike, visit www.oc-hiking.com. Membership is free.
---
A 501(c)(3) charitable organization. Copyright © 2006 to Present OC Hiking Club/Hike Everywhere, All rights reserved. Distribution or publication of this site's content without prior written permission is prohibited.