Help a child hike the travails of life
By SUKI REED
SPECIAL TO THE OC REGISTER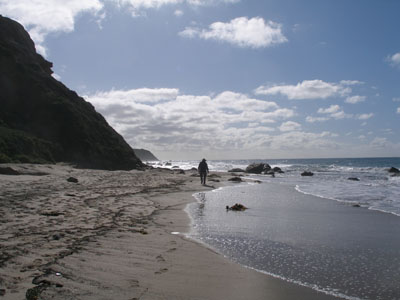 "We are all raising these children through our attention or indifference — we are all role models." — Suki Reed
Some of the best times in a boy's life are often spent in the great outdoors with dad, but when dad is out of the picture, what then?
When a young boy's father has been removed either by abandonment, death or abuse, there is an even bigger need for the community to provide emotional attachment with a positive male role model.
In association with youth crisis agencies throughout Orange County, the OC Hiking Club is providing hikes for kids in need and the opportunity for men to mentor boys.
On our last hike along Crystal Cove State Beach, I enjoyed watching the simple but important interaction between the children and our club members. It was the second time I noticed that one of the boys had attended one of these hikes. On the first hike, he had learned how to skip rocks.
On his second hike, he and one of the members of the OC Hiking Club refined his rock-skipping skills in the Pacific Ocean. The rock flew like a torpedo out of his 9-year-old hand and grazed the wave tops with up to eight healthy skips navigating frothy waves and sea rocks. I watched with a tiny bit of envy since my own rock skipping skills had never excelled to this level even at their peak.
He was clearly proud of his new skill and the extra coaching and attention from our members brought a mighty big smile to his face.
Small miracles happen when kids get positive adult attention, and these outdoor events seem to heighten their occurrence.
On another beach hike, a child had been brought by his CASA (Court Appointed Special Advocate) who told me that the boy had an innate fear of large bodies of water as well as a fear of walking or climbing on anything other than flat terrain. By the end of this two-hour outdoor experience, the CASA child had climbed in and out of every tide pool he could find accompanied by enthusiastic hiking club members.
His advocate watched with amazement to see the once fearful boy play in tide pools and waves with laughter and delight.
Without positive adult mentors and role models, many of these kids face drugs, jail and even death.
If you want to become part of this rewarding process and spend a few hours as a male role model, first join the OC Hiking Club.
For more information, go to OC-Hiking.com. Membership is free, or if you would like to have a more significant role in a child's life become a CASA Advocate with 900 programs across the United States.
CASA needs male volunteers
Kids in Need Statistics:
More than 70 percent of all state penitentiary inmates have spent time in the foster care system according to the May 12, 2006 Select Committee Hearing of the California Legislature.
The 1999/2000 Orange County Grand jury reported that within 12-18 months after leaving the foster care system 27 percent of males and 10 percent of females had been incarcerated.
Nationally, 25-50 percent of emancipated youth become homeless. Lack of early positive role models, life and job skills are major contributors
For more information on CASA, contact: Kendra Puryear, CASA of Orange County, kpuryear@casaoc.org, (714) 619-5158, www.casaoc.org.
---
A 501(c)(3) charitable organization. Copyright © 2006 to Present OC Hiking Club/Hike Everywhere, All rights reserved. Distribution or publication of this site's content without prior written permission is prohibited.