OCHC Annual Report
Help to Get More Children Outdoors in 2018!

---
Annual Report — OC Hiking Club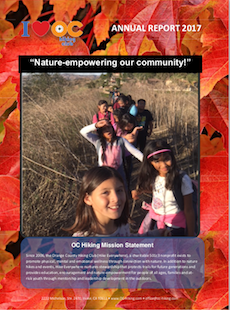 ---
---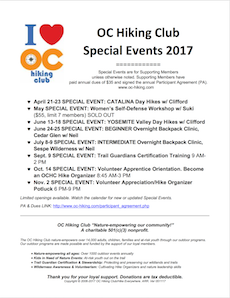 I LOVE THE OC HIKING CLUB!
---
Support the OC Hiking Club today
---
Over 15,000 members strong; as a nonprofit charity we serve as a portal to the outdoors for families, adults and children. Our volunteer led hikes extend throughout Southern California and beyond with over 1000 hikes and outdoor events annually. Our Kids in Need of Nature program helps children of all ages and underserved youth discover the outdoors with positive adult role models. Additionally, our Trail Guardians Program assists in maintaining our wilderness areas with on-the-go trail skills.
We rely on your donations to continue serving our community. Thank you for helping us connect our community with nature!
---
"Small miracles happen when people spend time outdoors in nature." – Suki Reed
OC Hiking Club/Hike Everywhere is a charitable 501(c)(3) nonprofit for public benefit. All donations are tax deductible.
---
A 501(c)(3) charitable organization. Copyright © 2006-2018 OC Hiking Club/Hike Everywhere, All rights reserved. Distribution or publication of this site's content without prior written permission is prohibited.